Have you ever tried using the Security Baseline feature in Intune's Endpoint Security to enhance your device's security?
If you have, but also encountered the frustration of finding certain settings missing – so you still need to create a Configuration Profile. Here is a tip that is quit smart and also make sure you get the latest baseline.
You can create your own Settings Catalog with all the baseline settings and add your own settings too.
To get started, download the latest Microsoft Security Toolkit package that includes all the necessary Group Policy Objects (GPOs). Then, head over to Microsoft Intune > Devices > Group Policy analytics (preview)– import the policy, and migrate it to the Settings Catalog. This approach lets you create a comprehensive and personalized list of settings and you can add all the settings you want.
Download latest Microsoft Security Toolkit
Current baselines is in the MST package for Windows client, M365 Apps and Edge:
Windows 11 version 22H2 Security Baseline.zip
Microsoft 365 Apps for Enterprise-2206-FINAL.zip
Microsoft Edge v112 Security Baseline.zip
Windows 10 Update Baseline.zip
Windows 10 Version 1507 Security Baseline.zip
Windows 10 Version 1607.zip
Windows 10 Version 1809.zip
Windows 10 Version 20H2.zip
Windows 10 version 21H2 Security Baseline.zip
Windows 10 version 22H2 Security Baseline.zip
Windows 11 Security Baseline.zip
Here I have now imported all Windows 11, Edge and Microsoft 365 policies to Group Policy Analytics: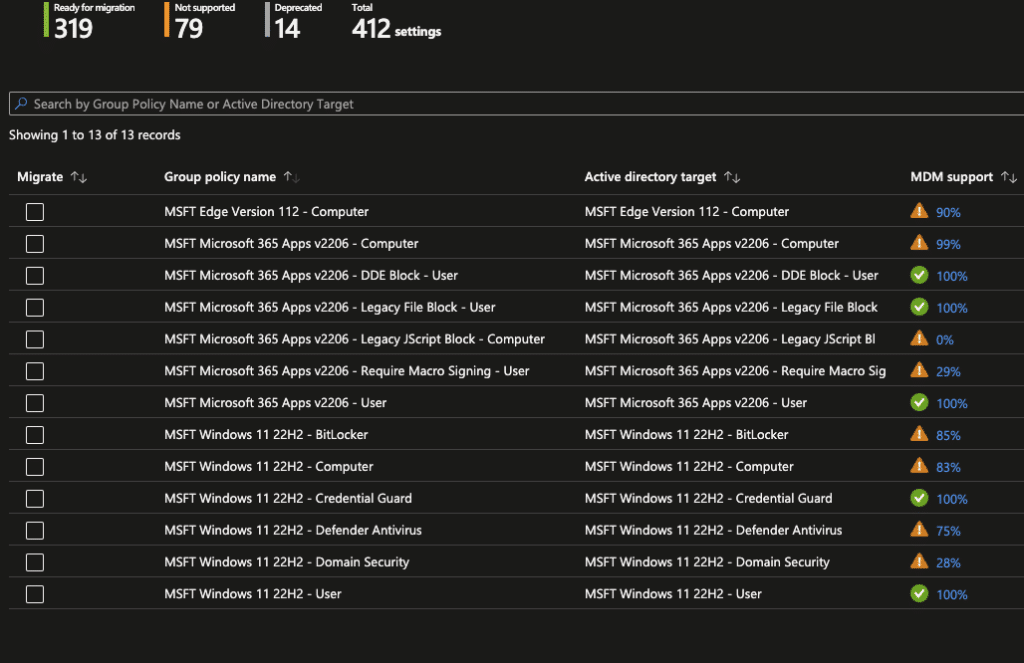 Now select the Group Policy and Click Migrate
Click Select all on this page.
OBS: Remember if there is multiple pages – you have to Click Next (up-right-corner) and again Select all on this page. Until you have them all.
Click Next
Now you get an overview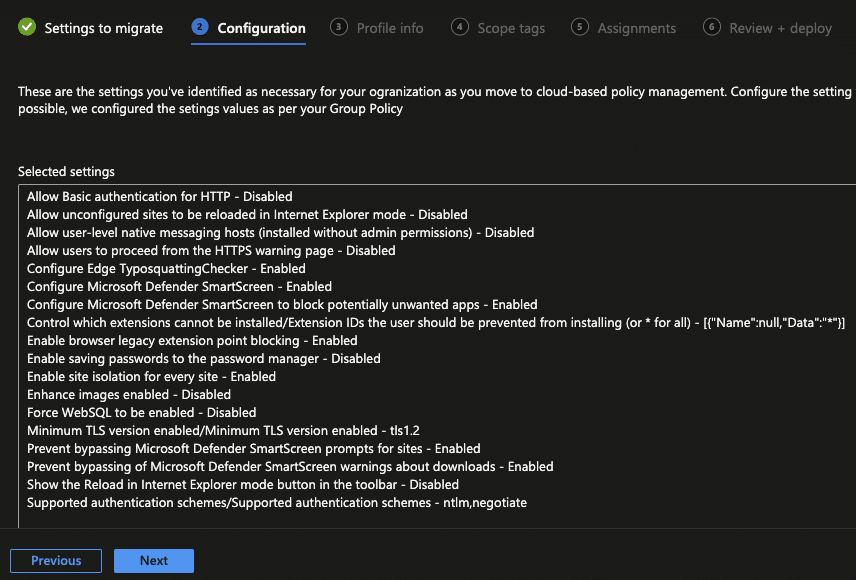 Set name for the policy
Click Next
Set assignment if needed – else Click Next
Click Deploy
Now you have a full setting catalog policy with latest Edge baseline.